Event-News
CUA2023 Highlights | Potent Unveils Innovative Thulium Fiber laser
Potent Medical showcased "in-situ stone rapid pulverization" with holmium laser at CUA, impressing attendees.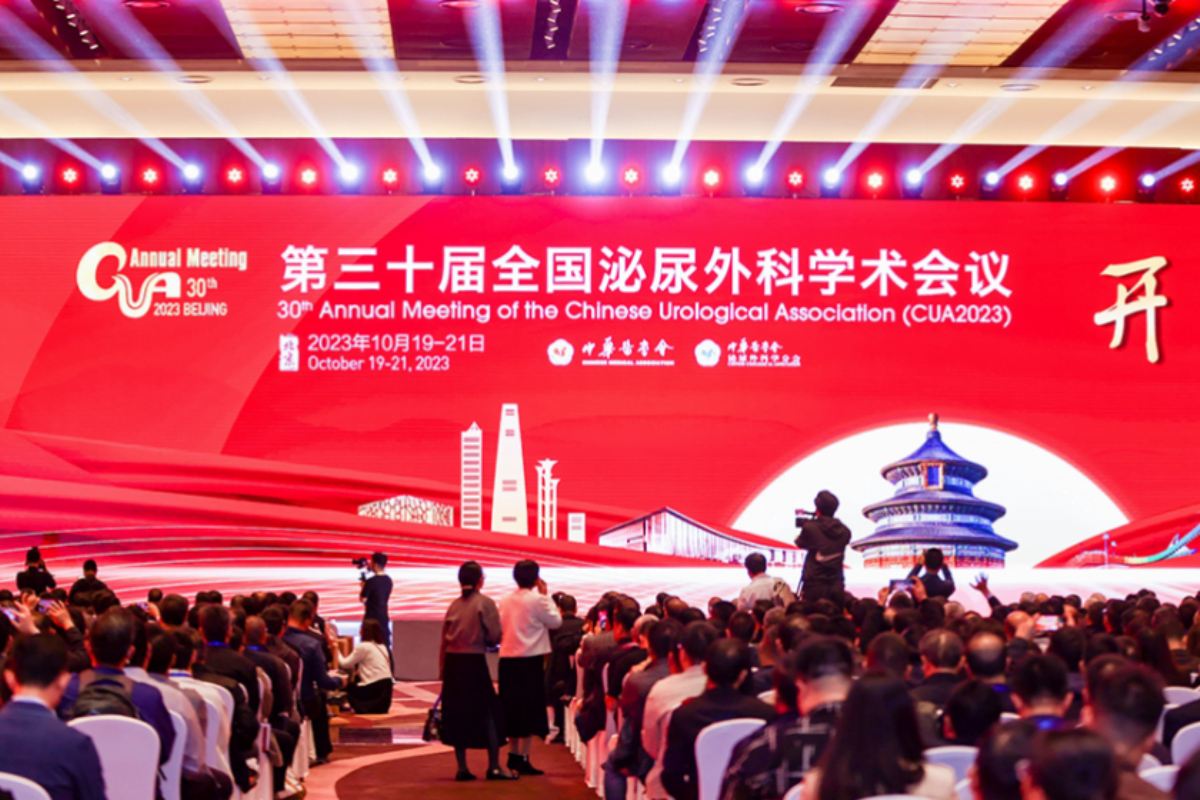 The 30th National Urological Surgery Academic Conference (CUA2023) took place from October 19th to 21st at the Beijing National Convention Center.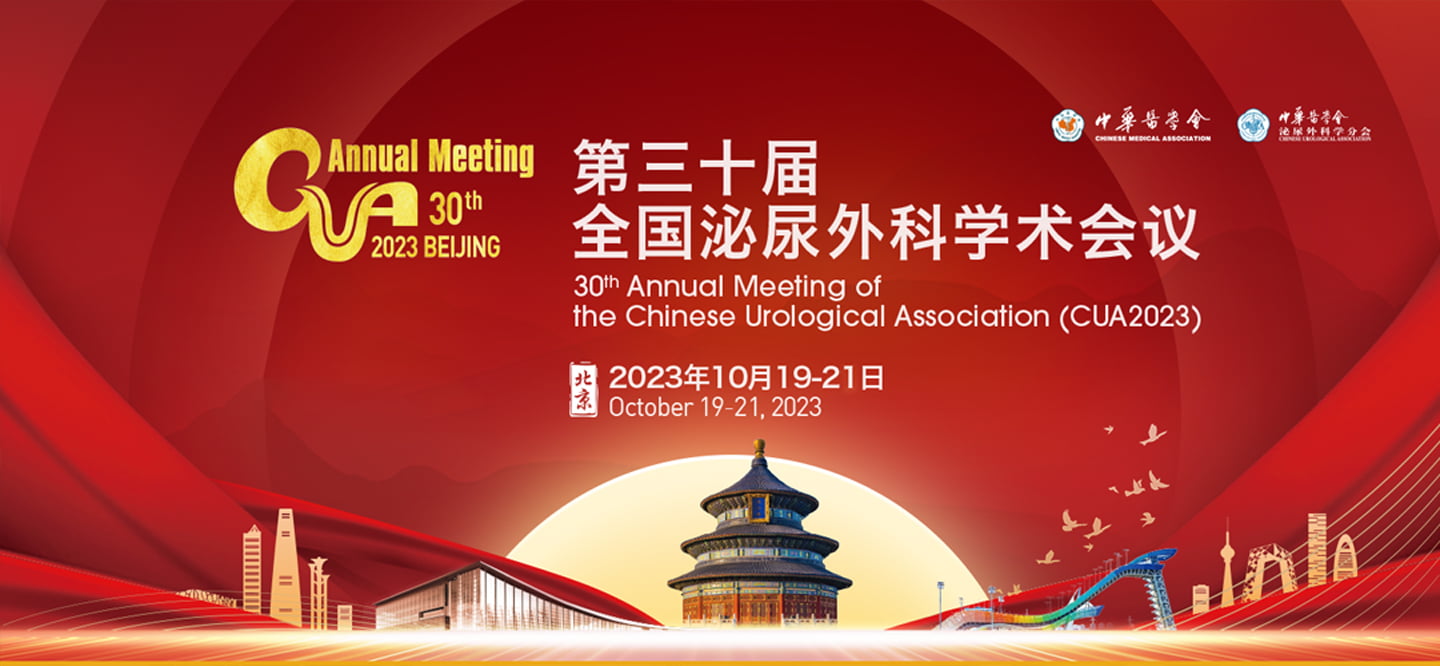 The conference, organized by the Chinese Medical Association and the Urological Surgery Branch of the Chinese Medical Association (CUA), was hosted by the Beijing Medical Association Urological Surgery Branch. Esteemed urological surgery experts and scholars from all over the country gathered together, attracting a significant number of international experts, to collectively explore the forefront advancements and innovative achievements in the field of minimally invasive urological surgery.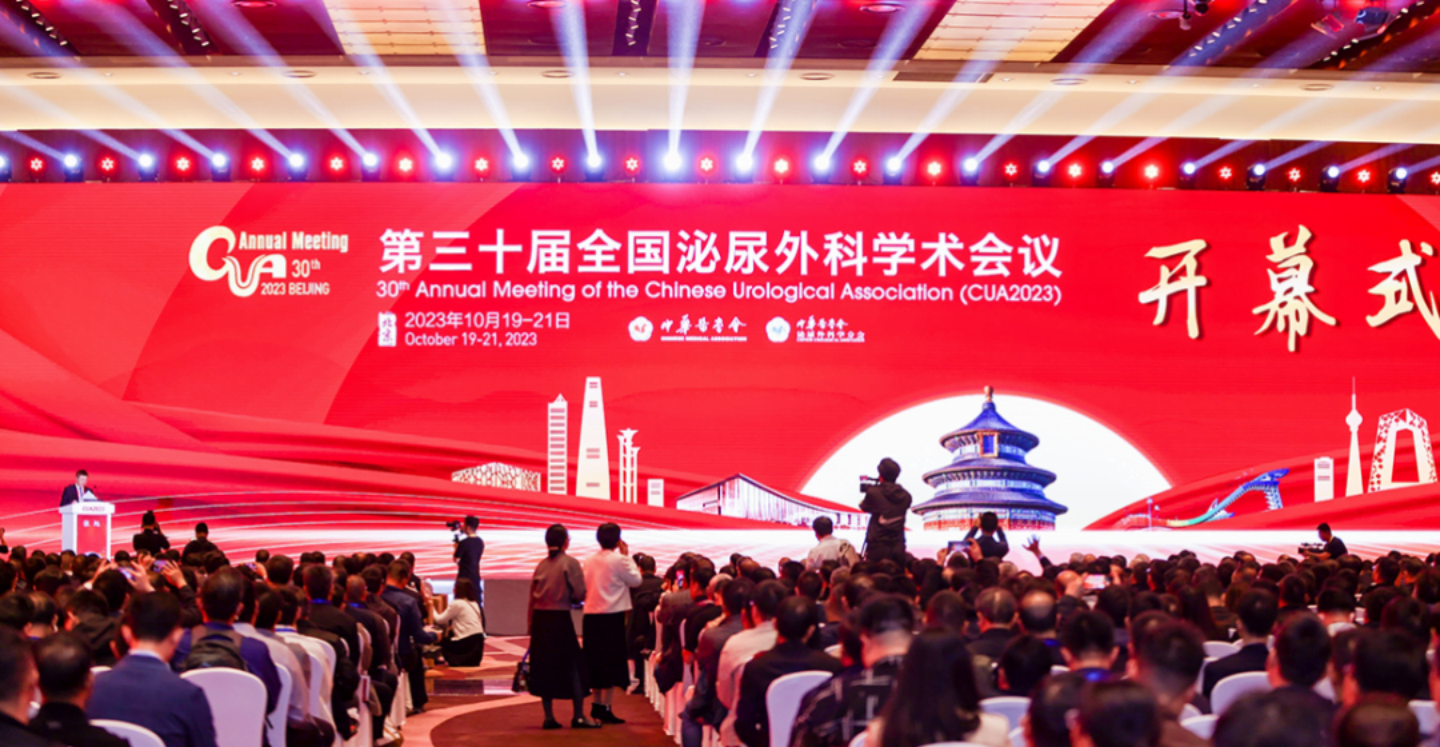 Potent's Exhibition Highlights
As a global leader in surgical laser system innovation, Potent Medical showcased a range of products at the CUA conference, including thulium fiber laser, holmium laser, urodynamic analysis instruments, urine flow measurement devices, and disposable sterile laser fibers. Their impressive product lineup and comprehensive solutions for urological surgery garnered attention from urology experts and peers, who visited their exhibition booth to experience and engage in discussions. The outstanding features of their products received broad recognition from clinical experts.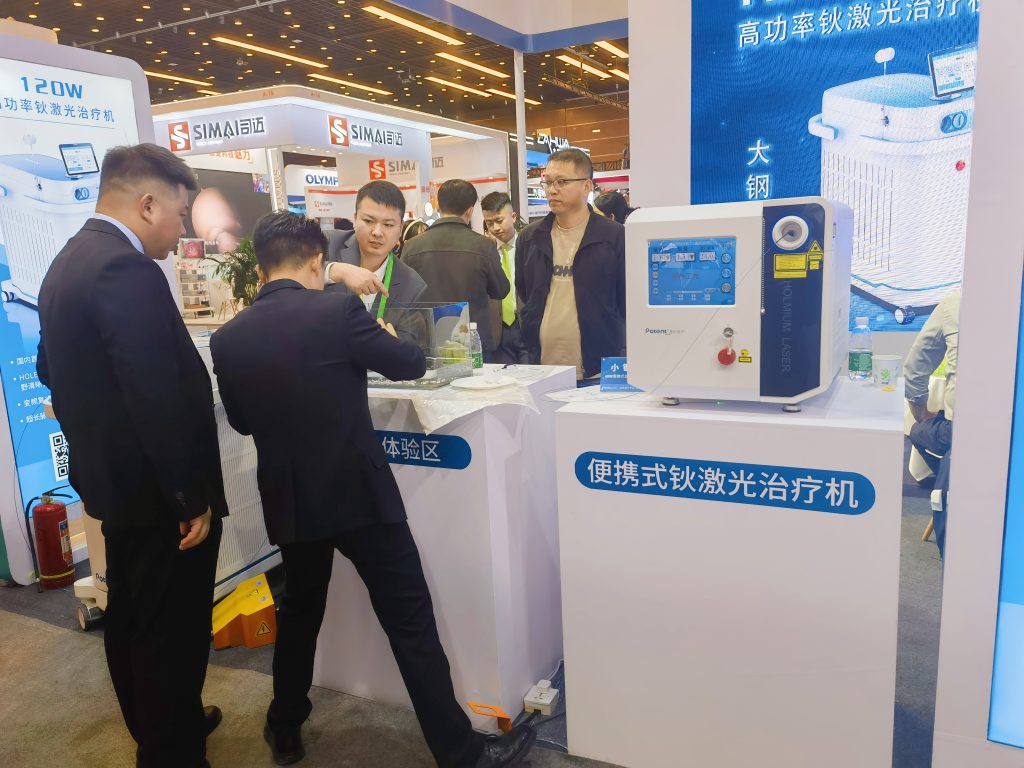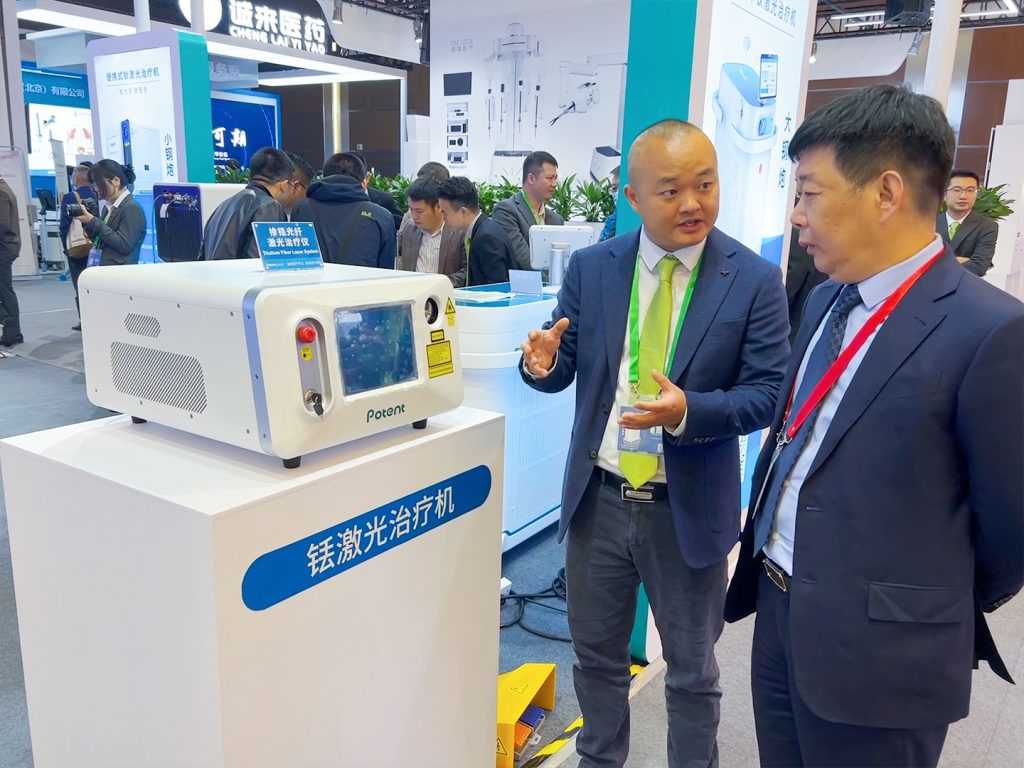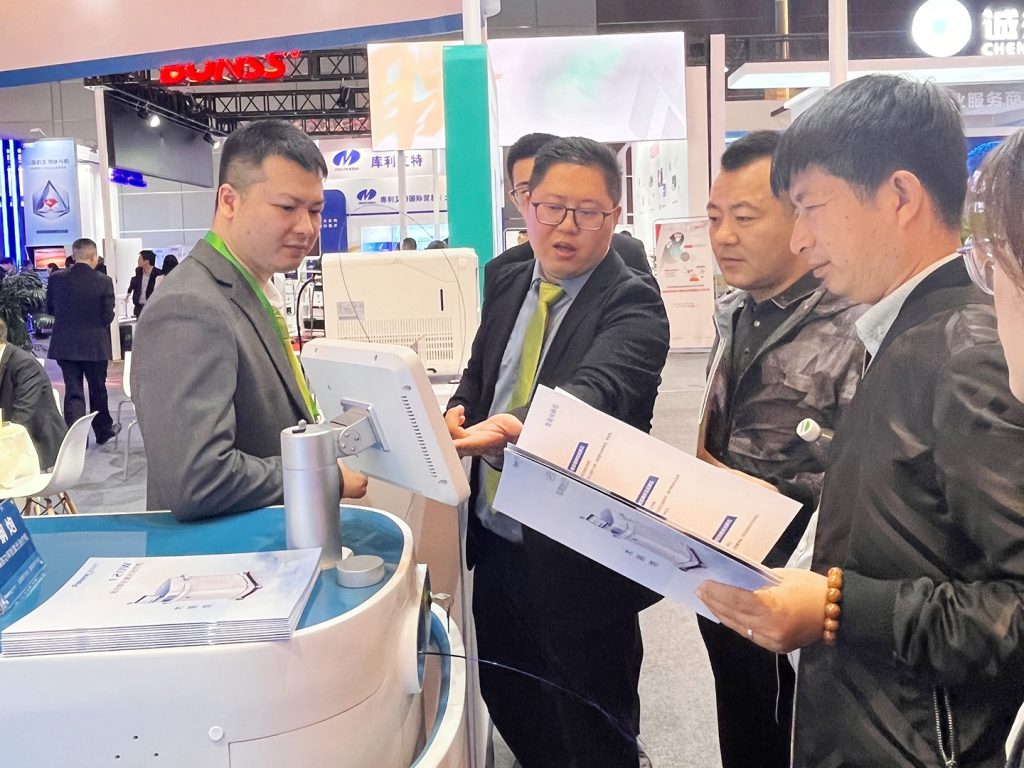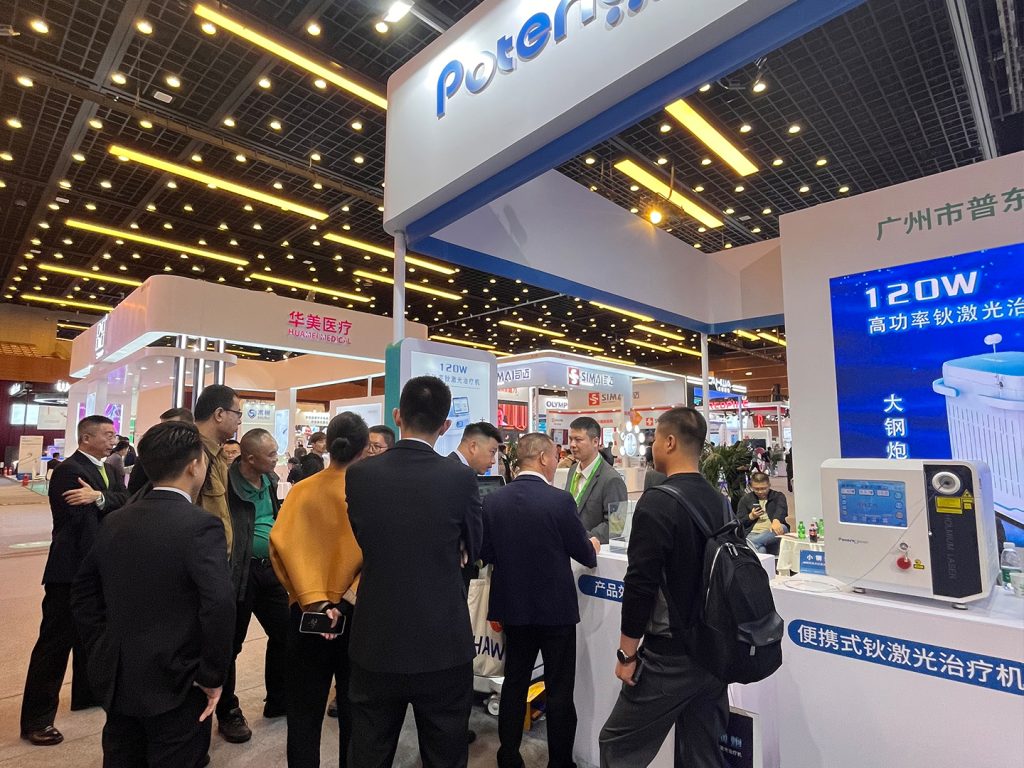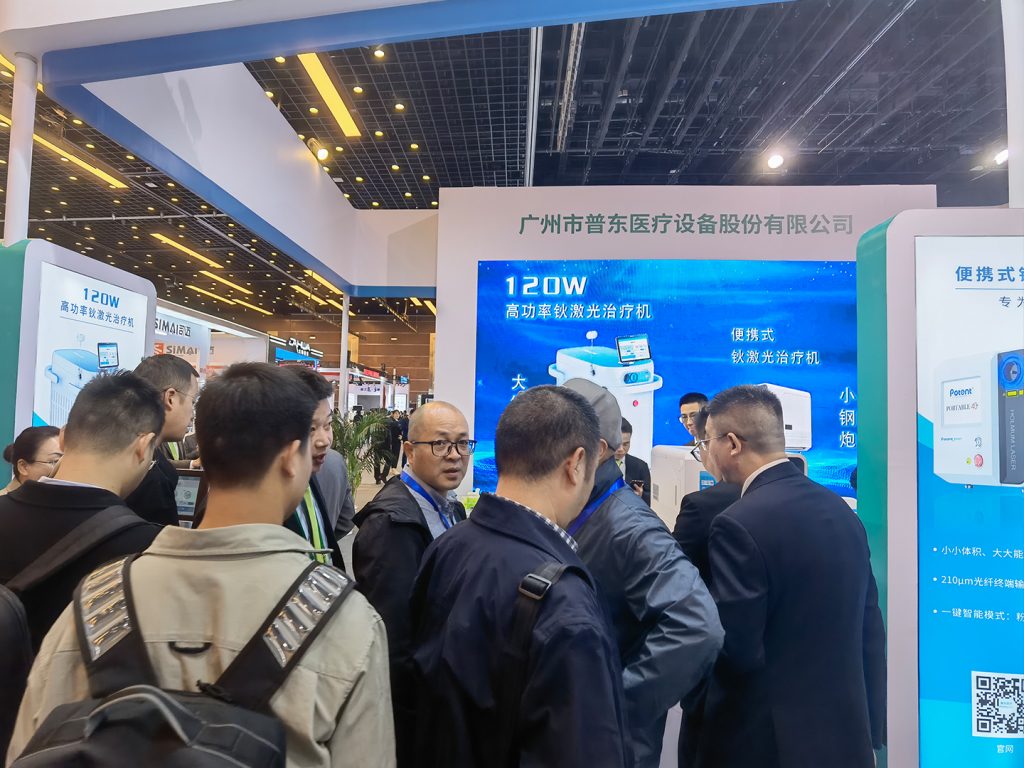 Live Demonstration of Holmium Laser Stone Fragmentation
The live demonstration of holmium laser extracorporeal simulated stone fragmentation attracted numerous conference attendees, who had the opportunity to personally operate and experience the advanced and innovative products offered by Pudong Medical. The highly acclaimed "in-situ stone fragmentation and rapid pulverization" technology of the holmium laser XP series received unanimous praise, with its compact size and high energy output delivering remarkable stone fragmentation effects that continued to captivate every participant with an interest in medical laser technology.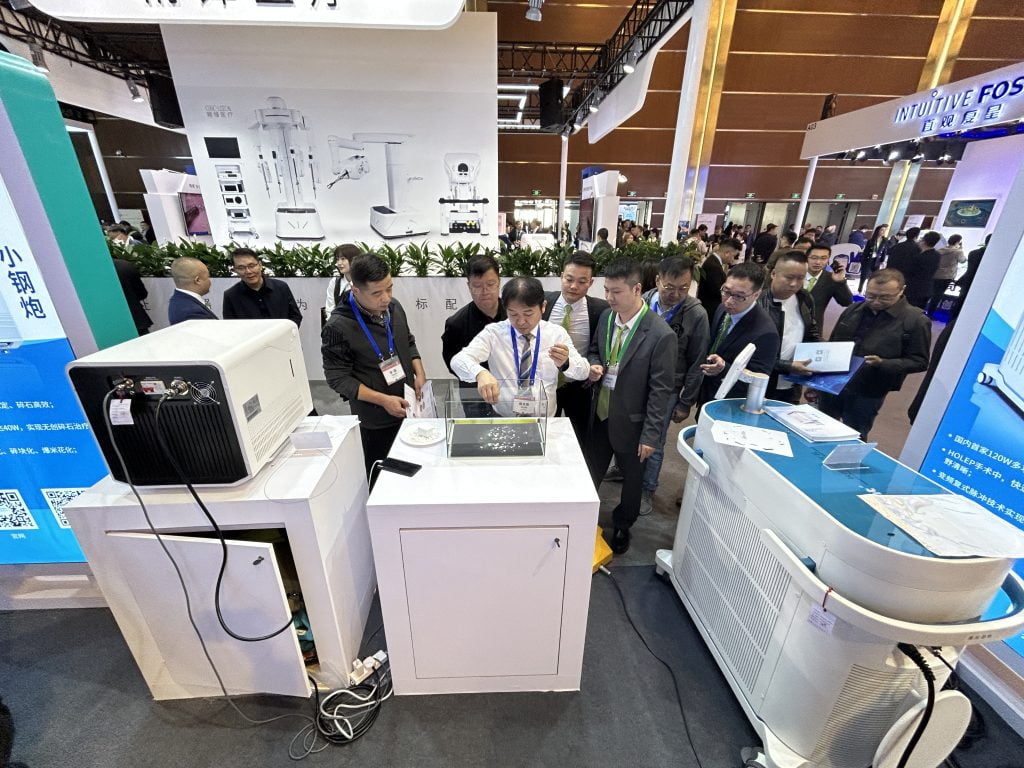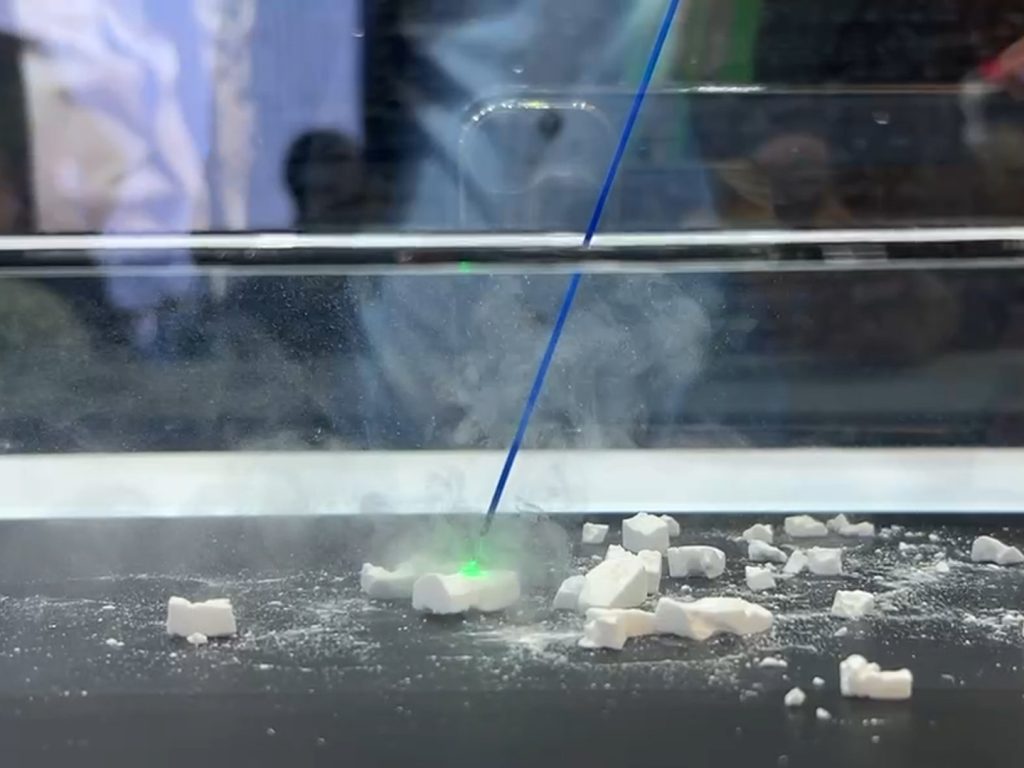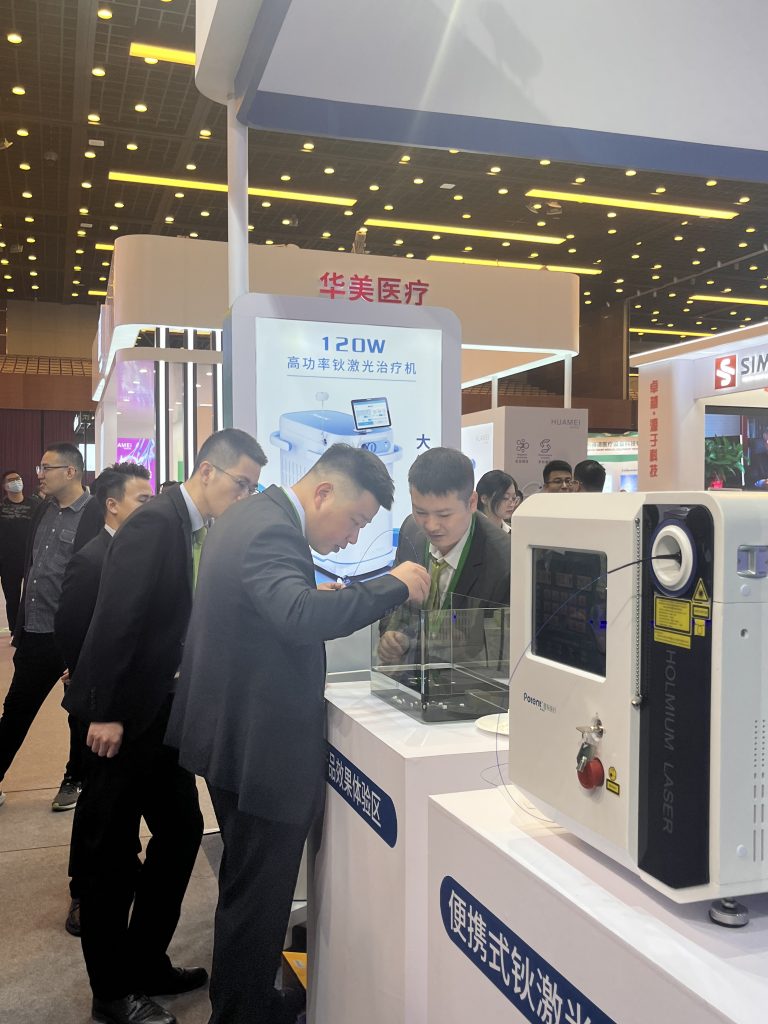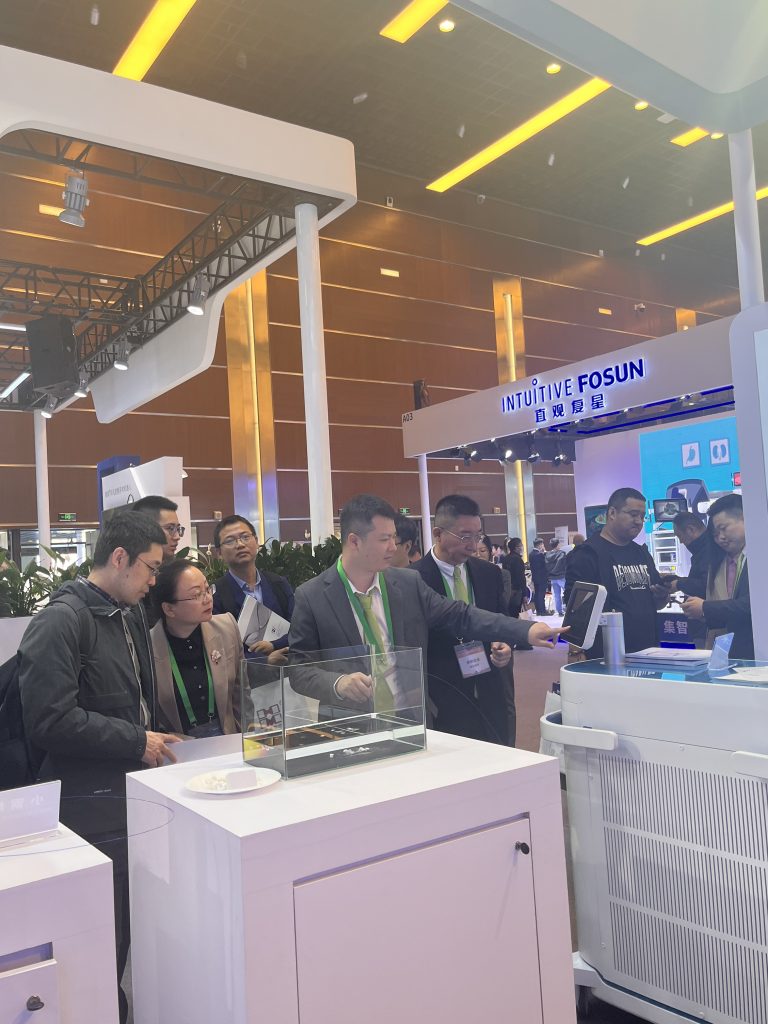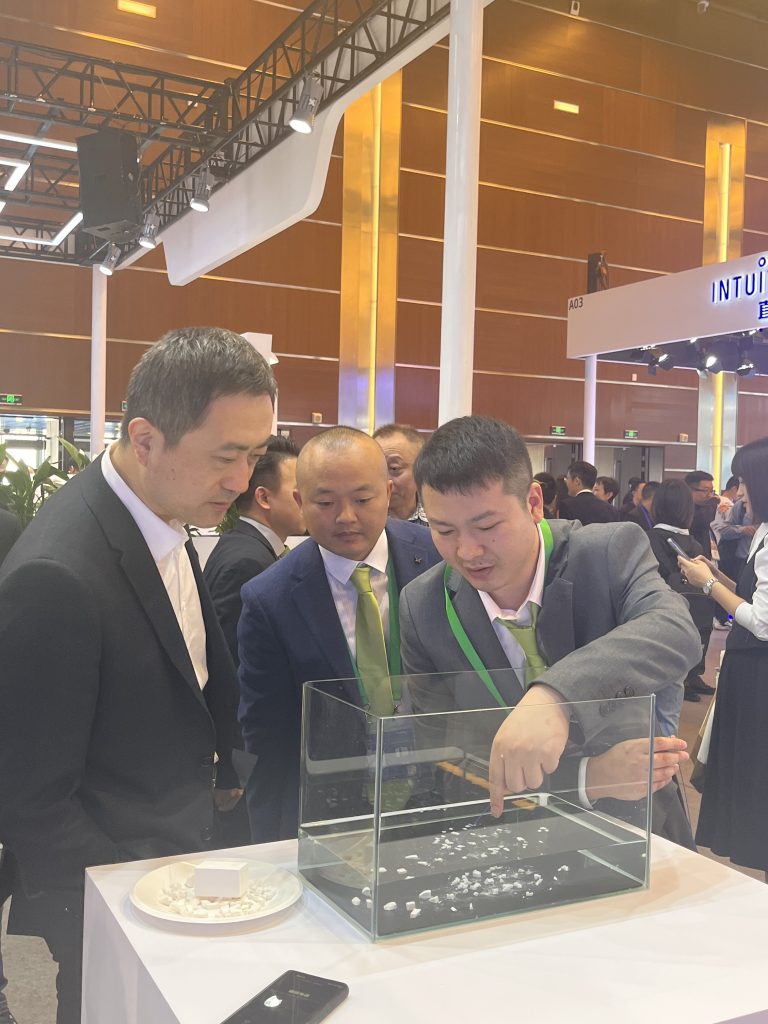 Highlights of the Laser Sub-Session
Urology experts delivered several thematic lectures on topics such as benign prostatic hyperplasia and urinary stones in the Laser Sub-Session and the Urodynamics Sub-Session during the CUA conference. The lectures focused on the clinical advantages of thulium fiber laser in the management of conditions like benign prostatic hyperplasia and urinary stones, highlighting the broad prospects of thulium fiber laser technology in clinical applications.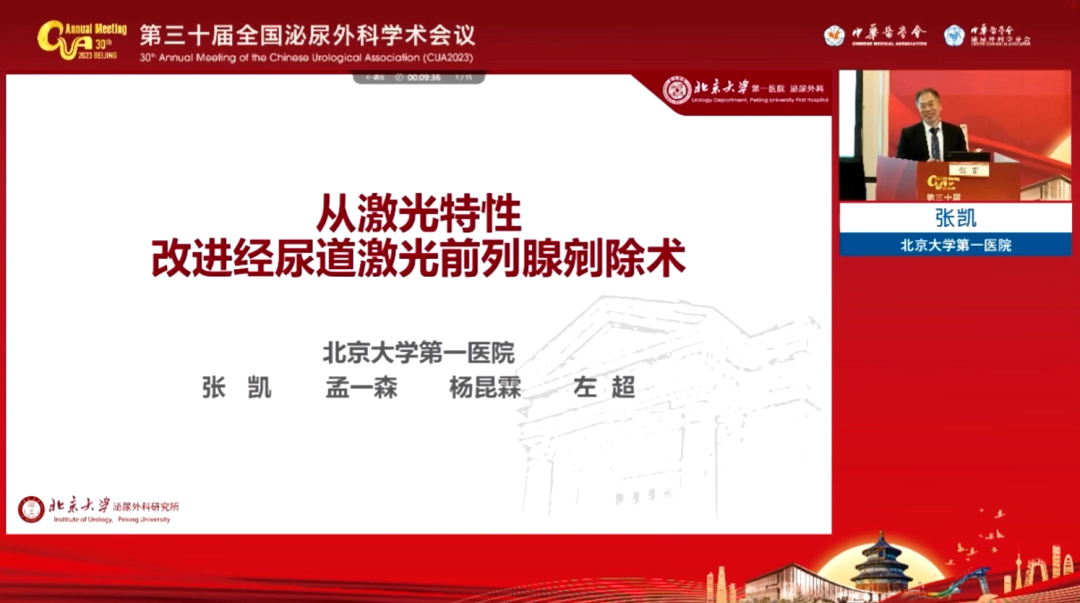 Professor Zhang Kai from Peking University First Hospital presented on "Improving Transurethral Laser Prostatectomy through Laser Characteristics," delving into the underlying principles and advancements in laser-assisted surgery. Thulium fiber laser and holmium laser, through their interaction with water, enable vaporization, precise cutting, and hemostasis. Currently, thulium fiber laser exhibits the highest water absorption coefficient and shallow penetration depth, resembling a precise surgical scalpel, enhancing surgical control.
A research team led by Professor Meng Yisen from Peking University First Hospital presented their findings on "Risk Factors Analysis for Postoperative Urinary Incontinence following Transurethral Thulium Laser Enucleation of the Prostate." Transurethral thulium laser enucleation of the prostate (ThuLEP) is emerging as an alternative to traditional transurethral resection of the prostate (TURP), particularly for patients with large prostates, offering excellent cutting and hemostatic effects. Concerns regarding postoperative urinary incontinence pose a significant obstacle to the wider adoption of endoscopic prostate enucleation procedures. The study analysis revealed that prolonged surgical duration independently increased the risk of postoperative urinary incontinence/stress urinary incontinence following ThuLEP. Moreover, both surgical duration and blood loss were identified as independent risk factors influencing the severity of postoperative urinary incontinence.
Professor Shen Zhou from the First Affiliated Hospital of University of Science and Technology of China (Anhui Provincial Hospital) presented a clinical study on "Laparoscopic Thulium Laser-Assisted Partial Nephrectomy for the Treatment of Renal Angiomyolipoma." Thulium laser has distinct advantages in partial nephrectomy procedures due to its excellent hemostatic properties and cutting effects. It enables surgeons to perform tumor resection without interrupting the renal artery, thereby maximizing preservation of renal function and avoiding ischemia-reperfusion injury. Professor Shen Zhou shared clinical techniques for the treatment of renal angiomyolipoma through thulium laser-assisted partial nephrectomy, based on clinical case experiences.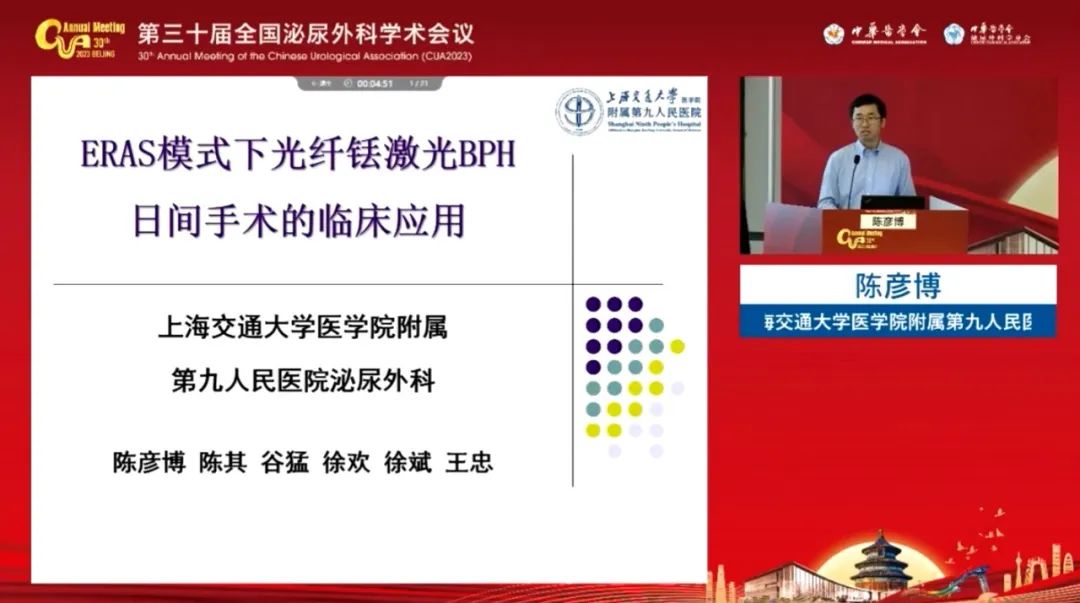 Professor Yanbo Chen from Shanghai Jiao Tong University School of Medicine, affiliated with the Ninth People's Hospital, shared a clinical study on "Clinical Application of Fiber Thulium Laser for Daytime Surgery of Benign Prostatic Hyperplasia (BPH) under the ERAS Protocol." The 1940nm fiber thulium laser demonstrates reduced thermal damage and higher vaporization efficiency, resulting in minimal bleeding during surgery, making it particularly suitable for daytime procedures. The clinical application of thulium fiber laser at the hospital has shown promising results: a 90% catheter removal rate within one day postoperatively, reliable clinical efficacy, high safety profile, a doubling of bed turnover rate, approximately a twofold increase in economic benefits, and a 25% reduction in patient hospitalization costs.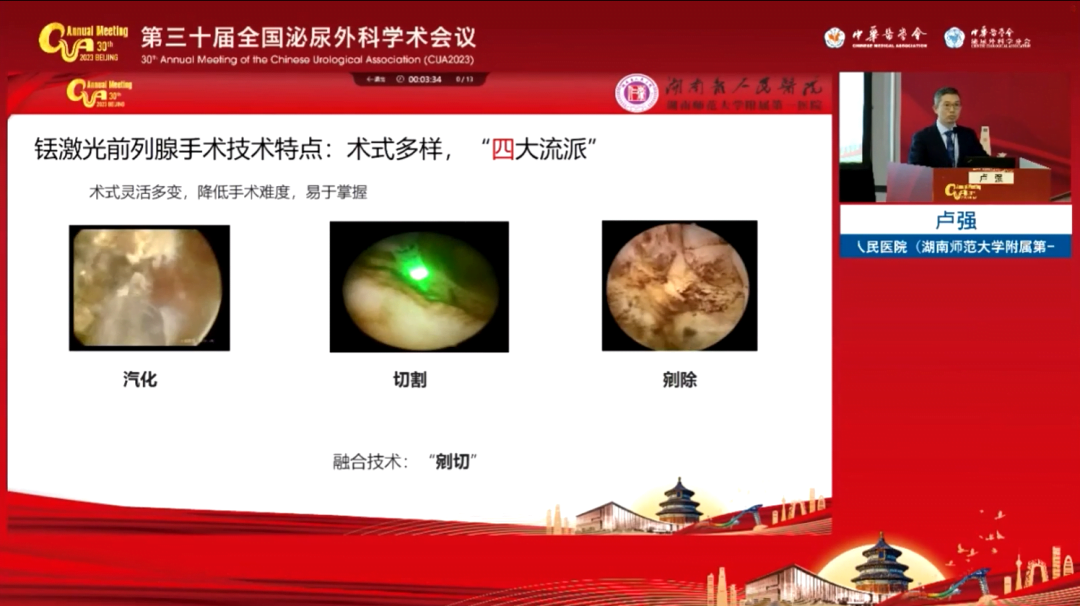 Professor Qiang Lu from Hunan Provincial People's Hospital (the First Affiliated Hospital of Hunan Normal University) presented a study on the safety and efficacy of Thulium Laser Prostatectomy in elderly patients. The study utilized a numerical framework to provide an overview of key aspects related to Thulium Laser Prostate Surgery in an elderly population, including the "Four Major Schools" of the procedure, the "Pentad" characteristics specific to elderly Thulium Laser Prostatectomy (Thulep) patients, the "Hexad" step-wise approach of transurethral Thulep using the trilobectomy technique, the "Heptad" perioperative management strategies focusing on the elderly Thulep patients, the "Octad" precision strategies employed during Thulep surgery, and the ultimate goal of "Ninety-Nine to One" rehabilitation for Thulep patients.
The presentation emphasized the versatility and adaptability of Thulium fiber laser techniques, which contribute to reduced surgical complexity and ease of mastery.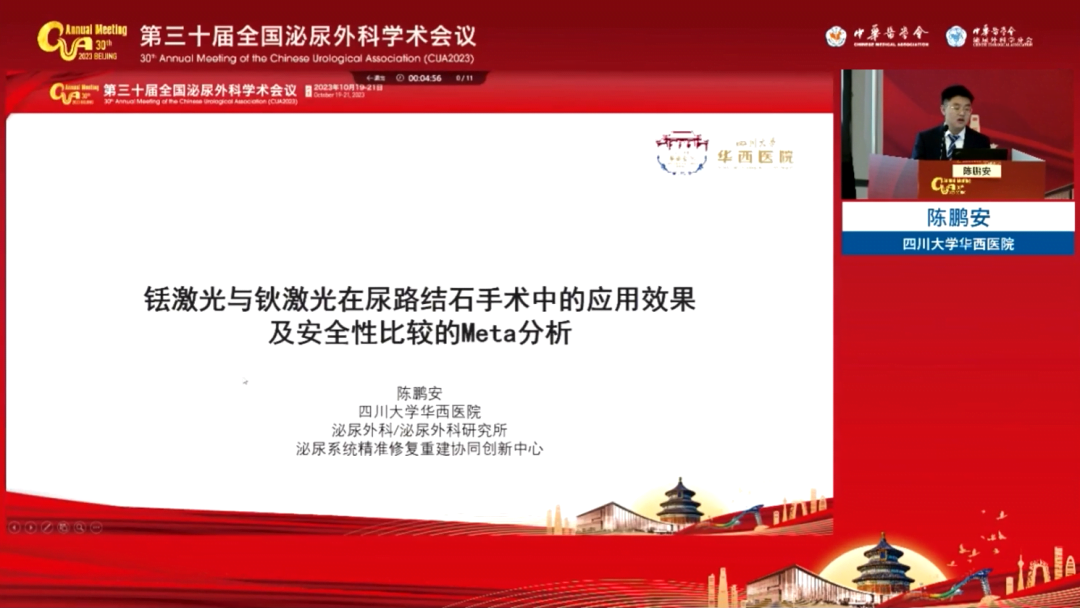 Professor Peng'an Chen from West China Hospital, Sichuan University, presented a meta-analysis on the comparative effectiveness and safety of thulium laser and holmium laser in the surgical management of urinary tract stones. The study revealed that thulium laser surgery, as compared to traditional holmium laser surgery, significantly improves stone clearance rates while reducing surgical duration. Importantly, there was no significant difference observed in the occurrence of postoperative complications between the two techniques. These findings highlight thulium laser surgery as a more effective, safe, and reliable surgical approach for the treatment of urinary tract stones.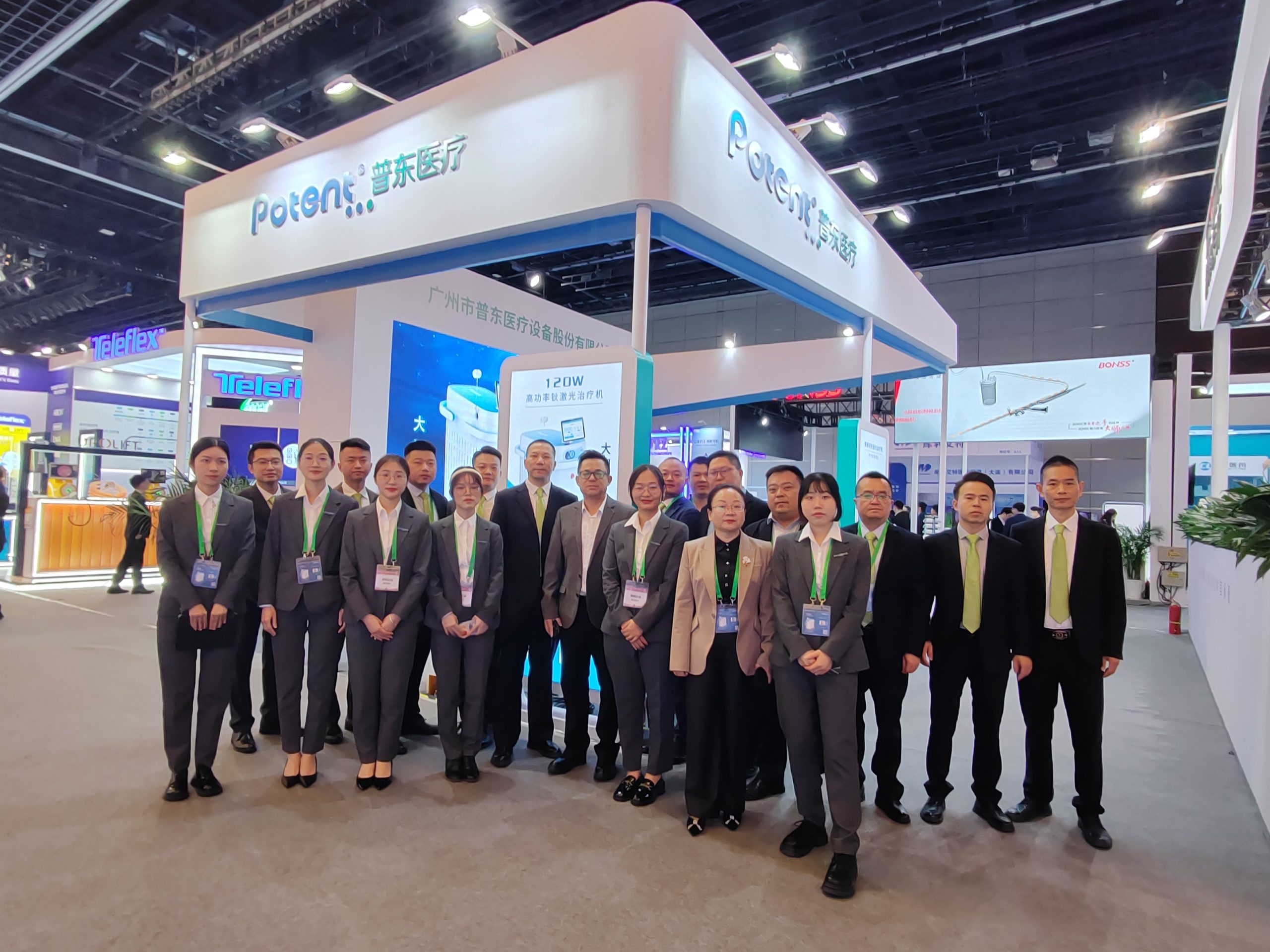 The successful conclusion of CUA2023, the National Urological Surgery Conference, marks a significant milestone for Potent Medical. Through active participation in this urological academic event, Potent Medical engaged in fruitful exchanges and learning with esteemed experts and scholars. With a deep commitment to attentively listening to professional guidance, Potent Medical is poised to continue its unwavering investment in research and development and technological innovation. By consistently staying at the forefront of technology and benchmarking against global standards, Potent Medical aims to lead the way in technological upgrades, ultimately benefiting a larger number of patients.
We look forward to meeting again at the next CUA conference. Don't miss it!