Exhibition
New Impressions And Ideas At Medica Trade Fair 2019
Since 2004, Potent Medical has the qualifications to participate in the German MEDICA exhibition for more than 10 years.

Nov 18, 2019

BY admin
The annual feast of the international medical industry-Germany Düsseldorf International Medical Devices and Equipment Exhibition (MEDICA 2019) was successfully held at the Dusseldorf Exhibition Center. Potent Medical shows the Holmium Laser System to make it accept different suggestions, discussing and exchanging new strategic product plans with top industry professionals from all over the world, such as medical equipment, drug wholesalers, purchasers, health departments, and medical professionals. This year, MEDICA is still extremely influential. More than 5,100 exhibitors from more than 70 countries participated. Thousands of medical experts and industry decision-makers attended the event. The exhibition also held more than 200 seminars, lectures, and discussions.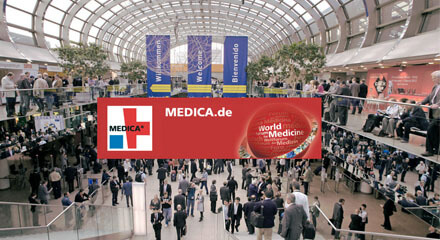 MEDICA is known as a symbol of new technology and innovation in the medical field of the world. It is a world-renowned comprehensive medical exhibition. It is recognized as the world's largest hospital and medical equipment exhibition, and it ranks among the world's largest hospital and medical equipment exhibitions with its irreplaceable scale and influence. The top of the world medical trade show is a large-scale medical event integrating trade, technology, and information.
Since 2004, Potent Medical top medical device companies has the qualifications to participate in the German MEDICA exhibition for more than 10 years. MEDICA has witnessed the strong growth of Potent, and as an exhibitor, Putong has also witnessed the advancement and influence of MEDICA.
In the past 16 years, Potent Medical largest medical device companies has insisted on independent research and development and technological innovation. Potent has focused on providing complete treatment plans and equipment for minimally invasive surgery in urology, especially urology stones and prostate enucleation(HoLep), to continuously pursue high-tech seniors Medical technology, the medical laser field that focuses on research and development continuously covers equipment in urology, general surgery, and other departments, and has won the recognition of domestic and foreign markets with excellent quality and service.
In the course of the exhibition, Potent Medical medical supply manufacturer booth received friends from all over the world and provided them with professional services, and demonstrated the operation of simulated holmium laser, so that customers deepened the impression of the product and consistent recognition.
The 4-day 2019 MEDICA exhibition has ended perfectly, let us look forward to the next MEDICA exhibition Potent Medical will be more exciting!
We will meet again in Dusseldorf next year!