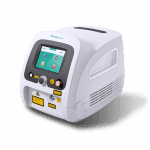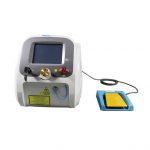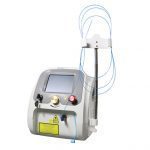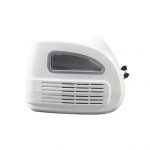 Diode Laser Machine
Easy-to-use Diode Laser Machine meets the diverse needs of users
The 980nm laser is highly absorbed by hemoglobin and water and outputs energy through the fiber to achieve optimal tissue cutting and hemostasis. The clinical results are shown as the fastest vaporization without bleeding, cutting through soft tissues, less bleeding and a clear surgical field of view.
GET MORE INFO
Product Details
Using the new continuous pulse frequency conversion technology and the multi-functional combination of 980nm wavelength that can be simultaneously and evenly absorbed by water and hemoglobin, the adjustable frequency and energy enable doctors to achieve rapid soft tissue cutting in ENT,PLDD,EVLT and urology with an ultra-thin coagulated layer of only 0.1mm.The advantage of non-contact hemostasis makes the clinical effect shorter and safer.
Features
Advantages
'óŹ Excellent interaction with tissues;
'óŹ Micro-invasive percutaneous access;
'óŹ Limited discomfort/pain for the patient during the PLDD surgery;
'óŹ Local anaesthesia;
'óŹ Quick patient recovery to normal activities;
'óŹ No scars;
'óŹ Repeatable procedure.
Versatility in applications
'óŹ Hemorrhoids¬† ¬† 'óŹ EVLT¬† ¬† 'óŹ E.N.T¬† ¬† 'óŹ PLDD¬† ¬† ¬†'óŹ Dentistry
Specifications
| | | | |
| --- | --- | --- | --- |
| Wavelength | 980nm | Work mode | CW,Repeat Pulse |
| Beam propagation | SMA905 Connector | Optical fiber tip | 532nm Green light |
| Cooling system | Diode rfrigeration | Dimensions | 400mm* 294mm*312mm |
| Optical fiber | 200um,275um,365um,550őľm,800um, 1000um | Power supply | AC 110V-250V/50-60HZ,single phase |