Exhibition
Review Of Medica 2017 – Potent Medical
MEDICA is the world's largest event for the medical sector

Oct 27, 2017

BY admin
Medica for more than 40 years it has been firmly established on every expert's calendar. Potent-Medical as medical device manufacturers in this event mainly show the core technology products: holmium laser treatment machine, semiconductor laser treatment machine, medical displays, and other products, attracting several national customers to come to the consultation and consultation, visit the customer in a continuous line, of which Regular customers and new customers of Potent-Medical urology products show a strong interest in the scene to express the establishment of cooperation and strengthen the willingness to communicate.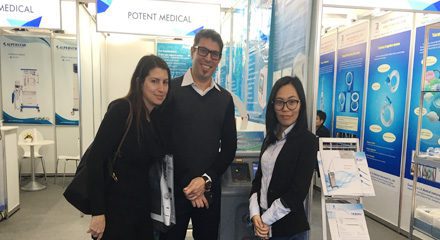 At the fair, we mainly show the Secretary for independent research and development of "holmium laser apparatus", "Diode laser therapeutic apparatus" and other products. Potent Medical booth to attract several national customers to consult and discuss cooperation, the company's products made a high rating, but also expressed the willingness to cooperate.
Potent Medical as a Chinese medical equipment company (stock code: 871516) in the local market to maintain growth at the same time in the overseas market has also made sustained and stable progress, brand influence continues to increase, potent have enough confidence to more quickly open up the world around the medical market.