UROLOGY LASERS
EMBRACE THE FUTURE OF UROLOGY SOLUTIONS
POTENT Laser Product's 2.1 μm surgical lasers offer a wide range of treatments options for many urological conditions. Treatment of stones with the Potent multi series of Holmium Lasers has become the first choice treatment option for both of endoscopic lithotripsy of bladder,ureter,and kidney stones and surgery of BPH,bladder tumor and soft tissue cutting. This minimally invasive procedure now is a standard procedure for urological treatment of stones and prostate ,replaced the ESWL and TURP as the gold standard of urology treatment. Using the flexible Potent laser fiber you can reach almost all locations in the bladder, ureter,kidney and prostate.
EXPLORE UROLOGY LASERS VIDEO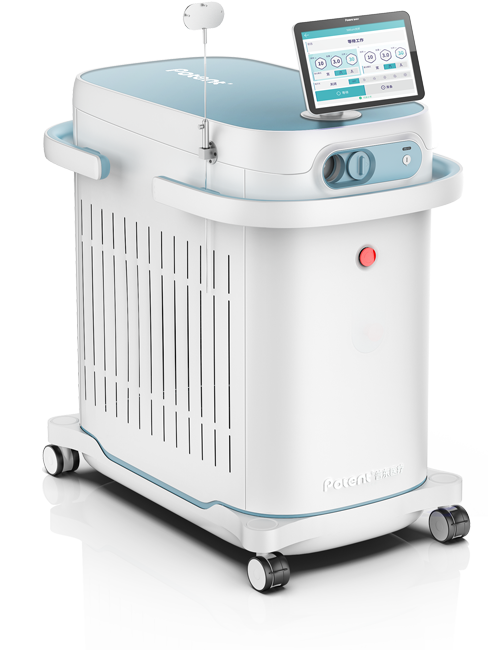 The Holmium Laser HP Series More Than Urology
The Potent Holmium Laser HP Series owns Potent HP100, Potent HP120 and Potent HP160 three different models for fitting different needs from urologists worldwide,provides versatility of urology as an all-in-one solution for both lithotripsy and HoLEP.Ultra-fast dusting of stones be performed thanks to a high frequency. In addition, prostates of any size be treated using HoLEP with its unmatched power and a remarkable pulse energy on a device that comes with the latest Potent reusable laser fiber.Even beyond urology.
Laser lithotripsy:
 20% reduction in procedure time
25% less fragmentation time
60% reduction in procedure time
BPH treatments:
15% faster enucleation
40% faster hemostasis
 91% of patients discharged in less than 24 hours without a catheter5
Holmium Laser For Stones
The safest and most effective of cutting-edge technology for the stones treatment of urology(bladder, ureter, and kidney stones) and Hepatolithiasis in the medical community today.eplaced the ESWL,EHL as the gold standard and first choice for lithotripsy.
MORE ABOUT LITHOTRIPSY
THE ROLE OF LASERS IN MODERN UROLOGY
★ In 1999, TURP accounted for 81%, and in 2005 the European and American markets accounted for only 39%; showing a significant downward trend.
★ Six years of statistical data indicate that laser vaporization and enucleation surgery are rising at a much faster rate than other methods, and are the future direction.
★ Holmium laser is the most ideal surgical solution in urology.Thanks to the highest and most powerful performance of the Potent® HP160.It is a perfect and unique holmium laser which combines of most efficient BPH treatment and stone treatment.